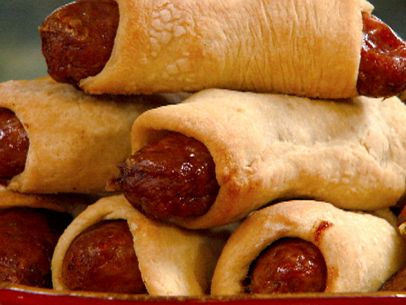 Spicy Sausage in Carrozza
Here is an easy and tasty appetizer to make for your next party, game night or pot-luck. Spice it up with all natural sausage from us.
Total Time: 50 min Prep: 20 min Cook: 25 min Yield: 6 servings Level: Easy

Ingredients
6 spicy Bernie's Classic Hot or Bernie's Classic Fennel & Hot sausage
1/4 cup extra-virgin olive oil, plus extra for brushing
15 whole garlic cloves
Salt and pepper
3 (4-oz) pieces pizza dough, store bought

Directions
– In a saucepan add 1/2-inch water to the pan. Immerse sausages in water and simmer for 10 minutes. Remove sausage and dry the pan. Return to the heat and add the olive oil on medium heat. When hot return the sausage to the pan with garlic cloves and saute until medium brown all over. Remove garlic to a bowl. Remove sausage to a plate to cool. Use a fork to mash the garlic with salt and pepper. Stir in mustard and set aside
– Preheat oven to 375 degrees F.
– Cut each piece of dough into 2 and roll out until 1/4-inch thick. Cut 6 pieces of dough about 3 inches wide and 1/2-inch shorter then the length of sausage, just enough to wrap around sausage with the ends peeking out. Spread bottom of each dough with a tablespoon of garlic/mustard paste. Set sausage on top, moisten 1 dough edge with a wet finger so it sticks together and roll. Press the seam firmly and set them on a lightly floured sheet pan, seam side down. Brush with olive oil. Bake until brown all around.
– Remove and let cool for 5 minutes. Cut into 3/4-inch long pieces and serve.
https://piemontesausage.com/wp-content/uploads/2017/01/mo0707_spicy_sausage.jpg.rend_.sni12col.landscape.jpeg
305
406
Nani Baker
/wp-content/uploads/2018/04/piemonte-sausage-logo-300x110.png
Nani Baker
2019-09-23 17:05:54
2019-09-23 17:06:09
Football Season Appetizer